ITALY - CONCA
Whole villa: 2,200 Euros per week (Cleaning and laundry 50 Euros)
Studio: 400 Euros per week (Cleaning and laundry 50 Euros)
After two hours drive from Rome, or one hour from Naples, one soon appreciates the magic of this chestnut rich village, hence its name. Conca is on a hill with many hills around, saturated with chestnut trees and deep valleys and streams.
The villa is beautifully restored, nestling into the hillside, on three levels, with a separate studio with sofa bed, kitchen and shower.
The main residence has a double bedroom, and twin bedroom, and bathroom, but on the lower floors there are two informal rooms, with double and single day beds, thus accommodating 7 people. The main front door enters into a charming hallway and into a sitting room with open fire place (for roasting chestnuts). The large inviting kitchen with dining table, is on this level, and ideal for typical Italian family meals (which I experienced) is well equipped.
From the sitting room, through French doors, one discovers a casual lounge, with terrace, and TV, and below a study with day bed. There is a separate shower room.
This is a divine place, for few or many, and everyone can spread about, and not be heard or seen. There is a local shop, but a car is needed for venturing to discover the local history and environment, full of concas and colours, especially in Autumn.
The seaside is 30 minutes away. Close to the 17th Century Monte Cassino Abbey, and the old Royal Palace in Caserta.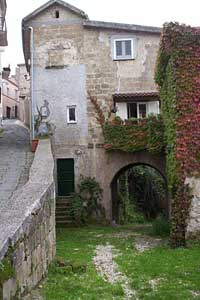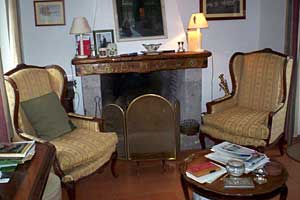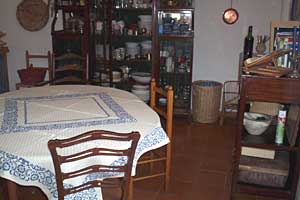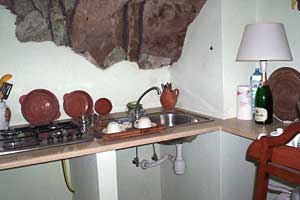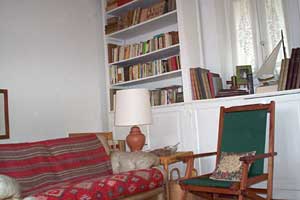 Details depicted here may have changed since photographs were taken.