Welcome
We always get new properties each year, and some we loose, but do ask about your favourite place to stay, if you do not see it on the website. Special requests are always considered by owners.
NEW PROPERTIES
September 2019
Thurlow Road, London NW3
Two bedroom, two bathroom attractive flat becoming available shortly for short let or long let. Quiet road in Hampstead with large garden. Furnished or unfurnished. Price on application depending on short or long term. Near shops, and transport links.
September 2019
Fabulous three bedroom flat near Excel Centre
£300 per night
February 2019
Addison Gardens, West Kensington, London W14
Beautiful ground-floor, one-bedroom flat in a fashionable location – click here for more details and photos
£900 per week. £150 per day. Cleaning/laundry £125.
January 2019
Thornhill Crescent, London N1 1BL
Compact first-floor flat with one double bedroom with en suite shower. Separate WC, open plan kitchen and lounge with sofa bed. Well equipped kitchen but no dishwasher – click here for more details and photos
£500 per week. Cleaning/laundry £100
Autumn 2019
The summer was good and now it is the Fall.
Airbnb class me as a superhost not knowing I have done this for many years and so happy so many people return.
My choir Aves Cantantes went near the Loire Valley and we sang for Ascension Day in one village church, and gave a concert in another church. We all stayed in an ex-monastery now super hotel.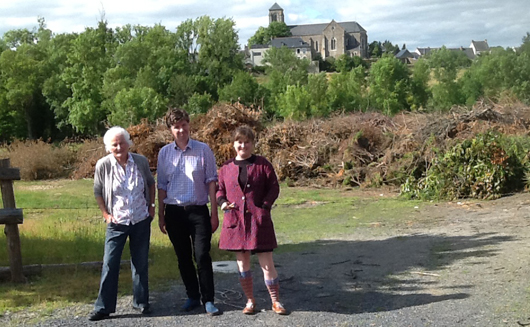 Our hotel in the background. Sue, Miles and Laura.
Holland Park Opera performed Dido and Aeunus which we had performed, so good to see the real thing. Ours better of course.
RentaCrowd met twice in May and September. My old ex-BBC hostel friends. We have known each other well over 50 years.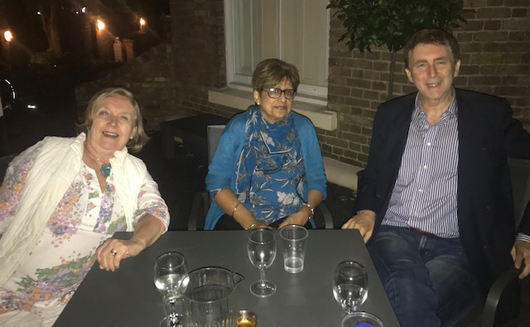 With Jyotsna Singh and Nicholas O'Shaughnessy at the Tennis Club
Libations at the church with Jyotsna Singh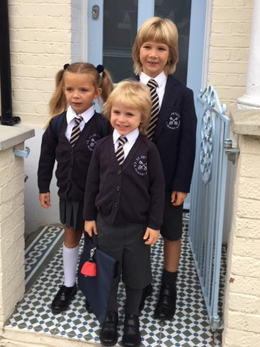 In September all three grandchildren are now at St Peter's School.
October brought a special concert for the 125th anniversary of Peter Warlock the British composer. His grandson Peter Heseltine attended and Miles Lallemant organised the superb music in St John's Church, Holland Road. Aves Cantantes sang.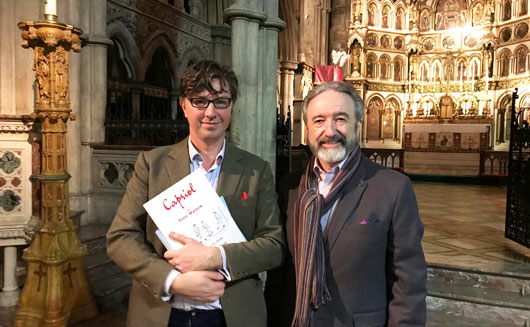 Peter Heseltine and Miles Lallemant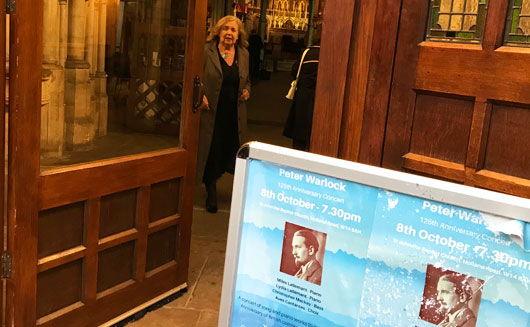 You can download a copy of the Peter Warlock concert poster here
Off to Australia in November to celebrate end of school life for Hollyanne.
Best wishes
Rosamond

SUMMER 2018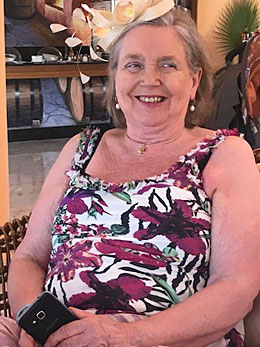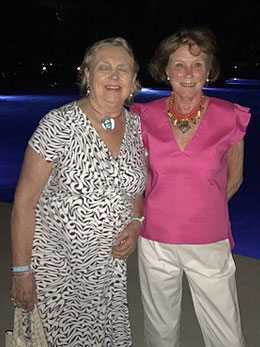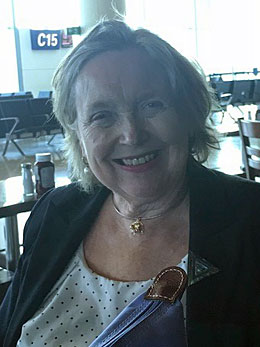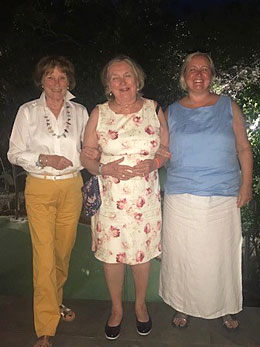 At Chichén Itzá World Heritage site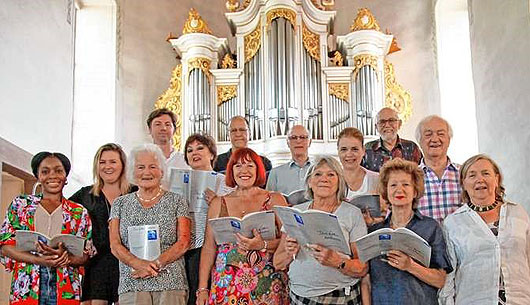 This was a truly German experience including swimming at Baden Baden.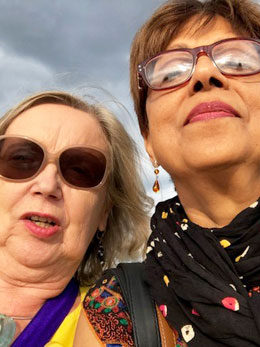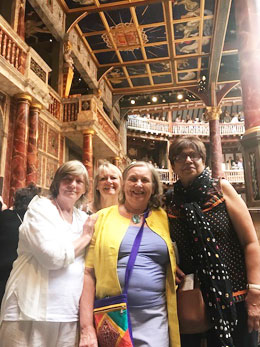 'As You Like It' at The Globe Theatre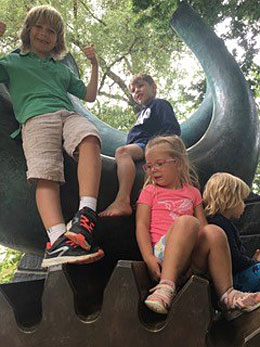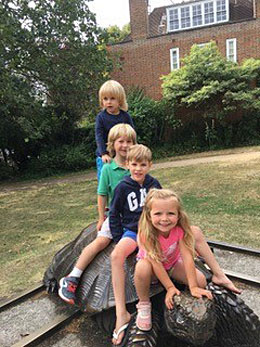 Fun in Holland Park
SWAPPING
I had a great swap with a beach house in Albany, West Australia, and now I have been asked by an owner in Austin, Texas about doing a swap in London in July. She has a variety of properties to offer, and Austin is a vibrant place to stay for business or sheer pleasure. It is worth thinking about.
CELEBRATING 30 YEARS: 1985 – 2015
Of course things have changed in 25 years particularly in communication, we rarely use a fax, and have computers and websites and mobile phones.
Gone our my beautiful purple brochures and the website taking all the glory. I do know even now people hanging on the my brochures.
Even when I away I am able to respond to your enquiries. What magic a computer is. A great enquiry came like this:
"Last fall, I was buying theatre tickets in London, and I overheard one man telling another that he had rented from you on several occasions and never been disappointed. I jotted down your name as quickly as I could".
Tuny Mokrawer. Chicago.
Another like this;
"We have rented from you on five occasions, spanning almost 20 years (first rental in 1991) on Artesian Road (with our children)".
Barbara and Ron Goldthorpe, Thornhill, Canada.
UK
Those of you touring Devon, look at www.stretebarton.co.uk – fabulous 5 star B&B run by great friends of mine.
AUSTRALIA
When I visited the Blue Mountains outside Sydney I stayed at a wonderful B&B called 'The Chalet', Medlow Bath. www.chaletguesthouseand studio.com.au
SRI LANKA
Look at this fabulous property: www.thalassasrilanka.com
PIEDMONT, near Alessandria: Here is a wonderful property for sale for those anxious to live the Italian rural life. It is priced at 180,000 euros, but open to offers. Delightful, rural property. Quiet one bedroom apartment in a complex developed from a traditional old farmhouse., Beautiful gardens, swimming pool, near vineyards and local golf club.
ROME, CASSIA: Villa for sale in very attractive area of Rome. One million pounds. Ideal for young family. Have stayed there many times.
QUOTES:
Miami University are my oldest clients, and many of the Professors retire, as Tom Effler has reminded me, and had a few words to say.
"I've done the London Programme 12 times over the last 15 years and only missed staying at one of your properties. You must be aware of how much I truly enjoy Queens Gardens. Thanks again for all your thoughtful service and kindness over the years."
Professor Tom Effler, Miami University, Oxford, Ohio. USA.
"Nobody has the pomp and ceremony that the Brits have and nobody enjoys a party more! Magnificent events."

Simon from Durban, South Africa
"I'm not surprised Italians like your flats: they are beautiful and either central located or well connected and prices are not scaring."

Gabriella, Rome, Italy
"I've done our London program eleven times since 1998, ten of those times were spent in various properties you manage — obviously 11 Queen's Gardens was my favorite. I will miss it."

Professor Tom Effler, Miami University, USA
"As always, you've been wonderful. We look forward to seeing you again sometime soon."

Professor Tim Greenlee, Miami University, USA
"Everything was perfect! jacob and rediet very happy, the wedding a fantastic multicultural event and all the flat and rooms you organized absolutely the best we could have! THANK YOU SOOOO MUCH!!!!"

Beatrice, Germany
"It was great to stay in Notting Hill, we will recommend you to our friends who plan to travel to London."

Irene and Aziz Kortel, Germany
"Back from London, filled with impressions, I want to thank you for finding this cozy appartment for us. It was perfectly located, close to the tube line that brought us directly to all the venues. We will definitely call you again if we plan another trip to London and recommend you to others."

Caroline, Germany
"What a lovely soiree... It is great to know we have a home in London with YOU behind the scene. Keep us in mind when you find that unique property for three months March - July any year any value ... Your lovely black cat would be a bonus!! Like Father Hugh .."xx

Chris Grikscheit Melbourne, Australia
"My husband and I and our grandsons, one at a time, have stayed in one of your wonderful London flats on 2 separate occasions. This September we are traveling to London with friends and thought of you again."

Elizabeth Levy, USA.
"I never forget those lovely days in your wonderful city and I even remember you cookies."

Maria Isabel Di Biasi Buenes Aires
"You are helping us beyond our expectations and we are glad to be in touch again. 2010".

Bill and Anne Pratt, Oxford, Ohio
(Bill and Anne go back to 1989 – my first Professor from Miami University, and their Professors have come ever since)
"I found you after a long search on the internet looking for 'serviced apartments', 'holiday flats', etc. Your website stands out because of your personal touch and the properties look very inviting. So many of the flats offered by others are so much like bland hotel rooms that one would have no sense of being in London".

Christine Mullen, Melbourne, Australia
"...okay we're off tomorrow morning earlyish and if we don't see you want to say thank you SO much for the hospitality. I know we were renters, but you were so generous in ways that went beyond a business relation. We are really grateful to you. Remember to think about finding us in Sussargues (Montpellier) if you're downour way in the summer".
Ken and Liz Harrow, Michigan State University
"You may remember that you very kindly found me a flat in London in the late 1990s when I was a graduate student at UCL. I always remember the personal interest you showed in finding accommodations for me – yours is certainly not the typical agency approach and it was (and is) much appreciated".
Karla Haywood, Director, Bermuda Archives
"Your agency was recommended by Mr. James Barnes of Regent's College, and I hope you can help with a short-term stay. Your web site is so efficient and enticing that you are our first enquiry".
Ruth Krieger, USA
"I am well settled in and I have managed to use the Wifi. The flat is lovely, especially the garden".
Estelle
"Our stay at your flat was perfect, and we had a great time. Everything went smoothly. The flat was perfect and in a great area. Thank you so much".
Debbie Williams and family, Wilton, California, USA
"I just wanted to write to tell you what a great time we had in the flat we rented from you (Sinclair Gardens). We loved the flat. We think it is the best flat we have ever stayed in and hope to stay to stay in it again".
Rachel Mayo, New York, USA
"Just a note to let you know we had a great time in London. The location was fantasic, and the flat, altho compact, it was great. This is our third experience with you, and all have been fantastic in their own way. Once again thanks, and we will keep in touch".
Paul Condit, Florida, USA
"London is one of the world's most wonderful cities and we had so much fun discovering it and exploring it together. At the end of the day and riding the tube, it was such a good feeling to come home to our comfy warm flat, a hot bath and our cozy beds".
The Blair family, Washington DC, USA (...they stayed in my Garden Flat next door)
"The location was excellent, the place cosy and comfortable, and all in all I had a great time".
Craig
"I will keep your site in my favourites. Thank you. "
Gemma
"I've already been in London in one of your apartments, and it was
a great journey... "
Ilarya, Italy
"I just wanted to thank you for everything - we had a very nice visit and loved the flat".
Yasemin, New York, USA
"Our plans are changing and we've now decided to do a long walk in the Cotswolds, which will mean not spending spending as much time in London after all. So it looks as though we won't be needing one of your great flats this year. We'll definitely be in touch when we want to come back for a more urban visit. It was lovely, as always, to look through your excellent website at the selection of apartments. Wish we could have all the time in the world!"
Cami, Amherst, Massachusetts, USA
View my Diamond Jubilee photo album